The last several years were a fascinating time period to be working with virtual reality as the technology finally became (somewhat) mainstream. Though it still hasn't been able to shed some of its cumbersome hardware and delivery platforms, working with cutting edge media such as this is always a highly rewarding and demanding experience.
Scroll down to view //
Click
to go back
---
Production
:
Outlander
, Season 3, behind the scenes 360 video, 2017
Duties
: 360 Video Production - Director of Photography
Client
: Starz
Production house
: Reverge VR
Location
:
Cape Town Film Studios,
South Africa
Watch on
Starz
YouTube channel.
Read Press on
Mashable
.
---
Production
:
The 33
, fully-immersive, 3D-VR experience, 2015 (unreleased)
Duties
: Director, Level Designer, plus Unity and 3D modeling
Client
: Warner Bros Pictures
Production house
: Reverge VR
View
stills
of game-play experience.
Description
: Users are placed inside a 3D-VR "edutainment" version of the mine where the Chilean miners were trapped for nearly 70 days, and experience what it was like to survive with limited resources. Hot-spot, "Easter Egg" objects within the mine are discoverable, and when looked at within a VR headset reveal pertinent information about the miners, as well as details which enable a user's survival.
---
Production
:
Hillsong United
, live-action VR concert and 360 video, 2015
Duties
: VR and 360 Video Production - Director of Photography, and Assistant Director
Client
: Capitol Records Group
Production house
: Reverge VR
Location
:
Toyota Center,
Houston, Texas
Watch 360 video on
YouTube.
---
Duties
: Co-Direction, and 3D Modeling, 2017
Client
: Hint Mint
Watch promotional video about this app on
Vimeo.
Description
: A unique mobile-VR, app-based 3D art gallery which hung the popular art of confectioner Hint Mint's selected cover-tin artists in a virtual gallery-in-the-round. The experience is further rounded out with a playful soundtrack and voice-over descriptions about each of the artists and their work by one of the founders of the company.
---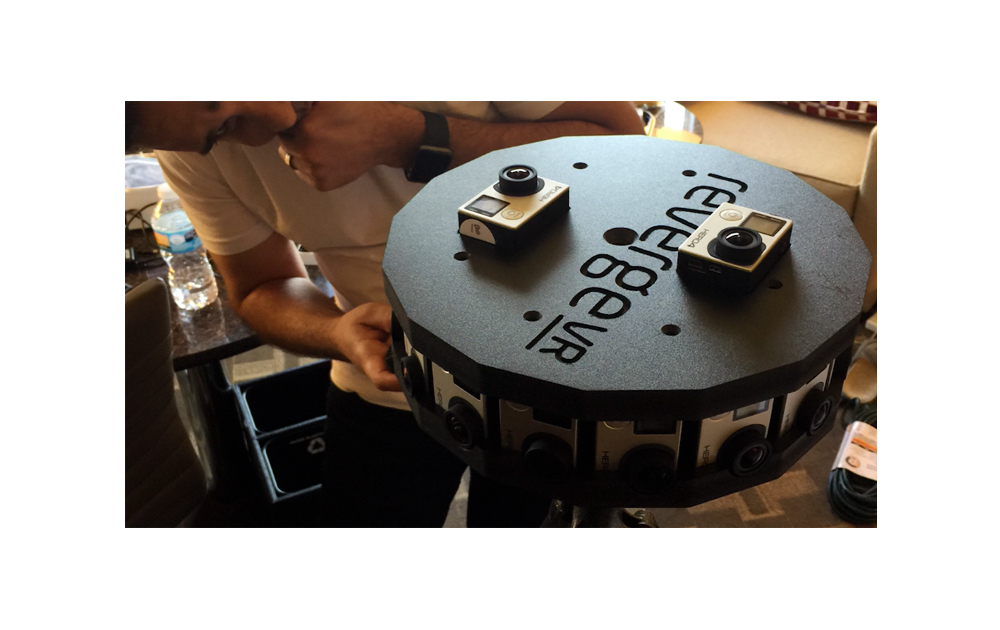 Duties
: Lead Researcher for a custom VR camera rig, 2015
Client
: Reverge VR (in-house)
Watch promotional video on
Vimeo.
Description
: While initially brainstorming VR content at our startup, we found the rental and/or leasing rates for live-action VR equipment to be outrageous. So, being a team of committed creative/techie hybrids, we decided to design our own system utilizing a tethered array of GoPros (not very common at the time beyond a couple introductory solutions, or unreleased theoretical possibilities), by exploring existing camera array layouts, inventing some of our own, beating the bejesus out of over a dozen GoPros to see how well they would perform under highly stressful situations, and ended up with a camera system that proved to be a worthy competitor in output to some of the best systems available, all at a fraction of the price.
Indeed, the VR video produced with our camera was of very high quality, and when we showed both platform and product in our VRLA trade show booth later the same year, the response from the attendees and fellow vendors was electrifying, and especially caught the eye of our booth neighbors, Google, with whom we eventually teamed on some later projects.
---
Production
:
ArbusNYC
, conceptual AR app, 2009-10
Duties
: Concept development and design
Institution
: UCSD Computing and the Arts
View full project
PDF
(opens new window/tab).
Description
: I like to include this Augmented Reality/UX student project (now from a decade ago when I returned to university to finish my studies) as I feel it gives a solid impression of my ability to think both in a innovative and practical way; I am constantly keeping an eye on nascent, cutting-edge technologies and thinking about how these tech could be used practically.
Meshing geo-locative technology, mobile-AR tech, and forward-thinking database interactions, this app would enable a user to situate her/himself within the various spaces in a major city where a mountain of well-known photo and film media had culturally built up over the decades, and to view these as interactive, overlaid AR "floaters" when holding the mobile device up to Real Life. These AR elements are also envisioned to be complex media objects that then connect to the databases of museums, galleries, associated cultural orgs, and various shops and stores (brick-and-mortar as well as online) where one could both learn more about the given cultural object, as well as purchase copies or related materials associated with the famous photograph or film.
Back to
TOP